Gebruik je tot nu toe alleen een spanningszoeker voor de elektrische klusjes aan je oldtimer? In veel gevallen een uitstekend hulpmiddel, maar nogal beperkt qua mogelijkheden. In de gereedschapskist mag een goede multimeter niet ontbreken. Hoewel een multimeter er op het eerste gezicht nogal ingewikkeld uitziet hoef je heus geen elektricien te zijn om er mee te kunnen werken. Met een korte handleiding helpen we je graag op weg:
Spanning meten
Schakel het apparaat naar het Volt gelijkstroombereik. Dit wordt aangegeven door de grote V en het DC-symbool. Het wisselstroombereik, (gemarkeerd door een sinuslijn) is bedoeld voor huishoudelijk gebruik. De multimeter heeft verschillende meetbereiken, voor de 6V en 12V auto-ectronica is het zinvol om deze in te stellen op 20 volt. Zo kun je bijvoorbeeld meten of de accu echt vol is (ongeveer 13 volt), of de laadspanning voldoende is, of zelfs te hoog (maximaal 14,7 volt), of er voldoende spanning aankomt op terminal 15 van de bobine (ongeveer 13 volt, met serieweerstand iets minder). Kortom: De voltmeter geeft aan of de volle accuspanning werkelijk alle bestemmingen bereikt. De spanning wordt verminderd door weerstanden in gedeeltelijk gebroken kabels of op gecorrodeerde en losse stekkerverbindingen.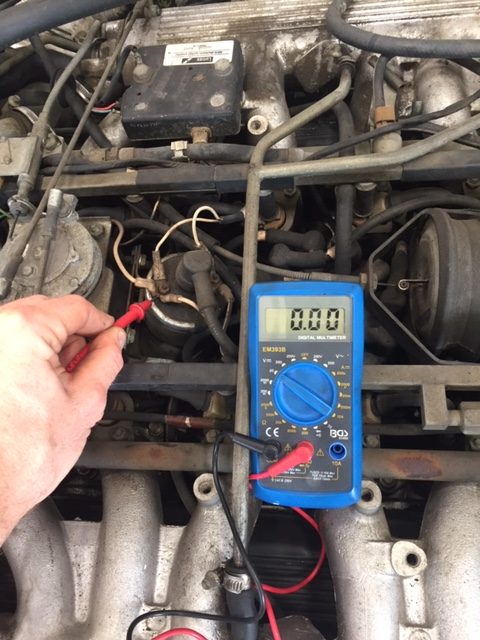 Weerstand meten
Schakel het apparaat over naar het Ohm-gebied, dat wordt aangegeven met het Omega symbool. In deze stand meet de multimeter de elektrische weerstand tussen de meetstiften. Als de stiften elkaar raken moet dhet display op nul staan; er is nu immers geen of vrijwel geen weerstand. Als de tips van elkaar zijn gescheiden, verschijnt er een 1 op het display, die een oneindig hoge (volle) weerstand symboliseert. Zo kun je bijvoorbeeld de weerstand van de bougiekabels opmeten. Weerstandsmeting wordt vaak toegepast bij het testen van kabelverbindingen. Door de multimeter aan te sluiten aan weerszijde van de kabel wordt de weerstand gemeten. Ligt deze dicht bij 0 dan is de verbinding in orde. Op dezelfde manier kunnen gewikkelde spoelen van bijvoorbeeld startmotoren en dynamo's gemeten worden.
Stroomsterkte meten
Om stroom te meten moet het apparaat worden omgeschakeld naar het ampèrebereik, aangegeven met de hoofdletter A. Het stroomsterktebereik is het stroombereik van het apparaat. Hier meet je niet alleen of er stroom is, maar ook hoeveel. Ideaal om bijvoorbeeld te achterhalen of een stille stroomverbruiker 's nachts de accu leegslurpt. Om dit te meten koppel je één van de twee accupolen los en sluit je de multimeter aan tussen deze pool en de accuklem. Verder meten kan in de zekeringenkast, om zo het verbruik terug te filteren tot een bepaald circuit.
Massaverbindingen controleren
Tot nu toe beperkten we ons tot metingen aan de positieve kant van het stroomcircuit. In de praktijk kan het probleem ook echter aan de negatieve kant liggen, bijvoorbeeld door roestige massaverbindingen of wanneer de massa bij een vers gespoten gerestaureerde auto onvoldoende is schoongemaakt. Controleer de massakabels dus grondig en maak deze goed schoon. Een lik vaseline voorkomt dat ze verder worden aangetast door corrosie.

Heb je nog geen multimeter? Let er dan bij de aanschaf op dat je apparaat een meetbereik heeft dat oploopt tot tenminste 10A. Bij lichtere apparaten zal de zekering anders snel doorbranden.