Een falend remsysteem is levensgevaarlijk. Vaak wordt er pas ingegrepen na APK afkeur, waarbij lekkage en/of ongelijk remmen aan het licht komen. Een goed onderhouden remsysteem voorkomt problemen. Hoog tijd dus om wat aandacht te besteden aan dit onderwerp.
Lekkende of vastzittende remcilinders worden veroorzaakt door vocht in de remvloeistof, wat op den duur leidt tot roestvorming. Ook komt het regelmatig voor dat de rubberen afdichtingen uitgedroogd zijn. Oude remslangen kunnen uitdrogen, of van binnen verstopt gaan zitten. Stalen remleidingen gaan na verloop van tijd roesten en kunnen bij een remrevisie beter preventief worden vervangen door koperen leidingen. Bij constatering van meer van deze problemen is het aan te bevelen om preventief te werk te gaan en het hele remsysteem te reviseren.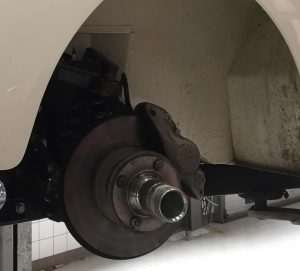 Voorkomen van problemen in het hydraulisch remsysteem
Voorkomen is beter dan genezen. In de revisie van het hydraulisch systeem gaat veel tijd zitten. Dit kan voorkomen worden door regelmatig de remvloeistof te vervangen. Remvloeistof is hygroscopisch, wat wil zeggen dat het vocht aantrekt. Dit vocht zorgt voor roestvorming aan de metalen onderdelen. Hoe vaak de remolie ververst moet worden is afhankelijk van gebruik en stalling. Regelmatig gebruik in combinatie met vaak vochtige stalling vraagt om jaarlijkse verversing. Bij droge stalling en wat meer recreatief gebruik (weekend en alleen mooi weer) is het voldoende om iedere 2 jaar te verversen. Combineer dit verversen altijd met een uitgebreide visuele inspectie en controleer op lekkage en droogtescheurtjes. Door de stofhoesjes voorzichtig op te lichten kan vaak al gezien worden of er sprake is van beginnende roestvorming.
Hoofdremcilinder reviseren
Een defecte hoofdremcilinder bouwt geen druk meer op, of doet dit pas na enkele keren pompen met het rempedaal. Lekkage is vaak al aan de buitenkant zichtbaar. Begin met het demonteren van de cilinder en inspecteer deze op inwendige roestvorming. Lichte oppervlakteroest is prima te verwijderen met uithonen (m.b.v. een hoonapparaat met slijpsteentjes). Diepgelegen putjes zijn met honen niet te verwijderen. Deze zullen ook na revisie blijvend leiden tot lekkage en drukverlies, waardoor de gehele hoofdremcilinder vervangen moet worden. Na het honen wordt de remcilinder weer opgebouwd met een nieuwe revisieset (rubber afdichtingen). Monteer de onderdelen altijd met speciale remcilinderpasta, die te koop is bij de automaterialenzaak.
Wielremcilinders reviseren
Revisie van de wielremcilinders start met demontage en visuele inspectie. Is de cilinderwand door roestvorming ingevreten dan is dit niet met honen op te lossen. Vervanging van de remcilinders is in dat geval de enige oplossing. Is de roest vooral oppervlakkig dan wordt de cilinderwand licht uitgehoond / gepolijst, totdat het oppervlak weer schoon en glad is.
Koppelingscilinder reviseren
Het principe is vergelijkbaar met de revisie van de hoofdremcilinder. Vergeet ook de hulpkoppelingscilinder niet en controleer de slang op droogtescheurtjes. Bij twijfel altijd vervangen.
Zelf doen of uitbesteden?
Veel van onze klanten sleutelen graag zelf aan hun oldtimer. Onderdelen voor het remsysteem van Triumph en MG sportwagens (revisiesets, remcilinders, slangen, remblokken etc.) zijn nieuw te bestellen in onze webshop: http://www.dandyclassics.nl/
Natuurlijk kunnen wij in onze werkplaats ook al het nodige werk uitvoeren. Neem contact op voor het maken van een afspraak, met prijsindicatie vooraf.
Welke remvloeistof gebruiken in een oldtimer?
Ons advies: houd het bij een goede kwaliteit DOT 3 of DOT 4 en ververs minstens één keer per twee jaar. Overweegt u om DOT 5 te gebruiken? Lees dan eerst deze blogpost met onze ervaringen.