[:en]There may be many reasons why you plan on selling your classic car. The most common reasons for sales include lack of space, lack of time, not using the car enough or financial difficulties. Whatever your reason, the sale of a classic car is not an everyday affair. From my experience with selling classics, I have formulated a couple of tips. Hopefully, these will help you to successfully sell your oldtimer car.
1. Prepare the car for sale
Wash your car. Too often I encounter cars under a layer of dust, tucked away in a corner of a shed with an interior full of junk. Not particularly attractive for a potential buyer. So start off by giving your car a thorough cleaning. Although most classic car enthousiasts know that there is always something to improve on an old car, it helps to fix small defects in advance. In particular, the general state of maintenance, fine tuning of the engine and proper functioning of brakes, steering and suspension are important. Also consider collecting and organising documentation. A stack of invoices for maintenance, parts, valuation reports and manuals make an oldtimer more attractive for enthusiasts.
2. Take good photos
Photograph your car in a clear way, in daylight and with a neutral background. Keep a certain chronological order. Start with the 4 corners of the car, front and rear, then the interior, mileage, engine compartment, boot area and any maintenance history and extra parts. Also add clear close ups of defects. A dent, scratch, rust bubbles or crack in the glass will not be noticed from a distance, especially on photos. You are helping potential buyers by offering your car as transparent as possible.
[:nl]Er kunnen veel redenen zijn waarom je van plan bent om je oldtimer te verkopen. De meest voorkomende redenen voor verkoop zijn o.a. gebrek aan ruimte, gebrek aan tijd, er wordt te weinig met de auto gereden of er is geld nodig. Wat je reden ook is, de verkoop van een oldtimer is geen alledaagse aangelegenheid. Vanuit mijn ervaring in de verkoop van klassiekers heb ik een aantal tips opgesteld. Hopelijk helpt het lezen hiervan jou om je oldtimer succesvol te verkopen.
1. Maak de auto verkoopklaar
Was je auto. Te vaak kom ik nog auto's tegen onder een laag stof, weggestopt in een hoek van de schuur met een interieur vol troep. Niet bepaald aantrekkelijk voor een potentiële koper. Zorg er dus voor dat de auto een grondige schoonmaakbeurt krijgt. Hoewel de meeste oldtimerkopers weten dat er altijd iets te verbeteren is aan een oude auto helpt het voor de verkoopbaarheid als kleine mankementen vooraf worden verholpen. Met name de algemene staat van onderhoud, het goed lopen van de motor en het goed functioneren van remmen, stuurinrichting en ophanging zijn hierbij van belang. Denk ook aan het bijeen verzamelen en ordenen van documentatie. Een stapel facturen voor onderhoud, onderdelen, taxatierapporten en handleidingen maken een oldtimer aantrekkelijker voor liefhebbers.
2. Maak goede foto's
Fotografeer je auto op een duidelijke manier, bij daglicht en met een neutrale achtergrond. Houd hierbij een bepaalde chronologische volgorde aan. Begin met de 4 hoeken van de auto, voor- en achterkant, dan het interieur, kilometerstand, motorruimte, kofferruimte en eventuele onderhoudshistorie en extra onderdelen. Voeg ook duidelijke close ups toe van gebreken. Een deuk, kras, roestblaasjes of barst in de ruit vallen van een afstand niet op, maar zijn belangrijk in het zo transparant mogelijk aanbieden van je oldtimer.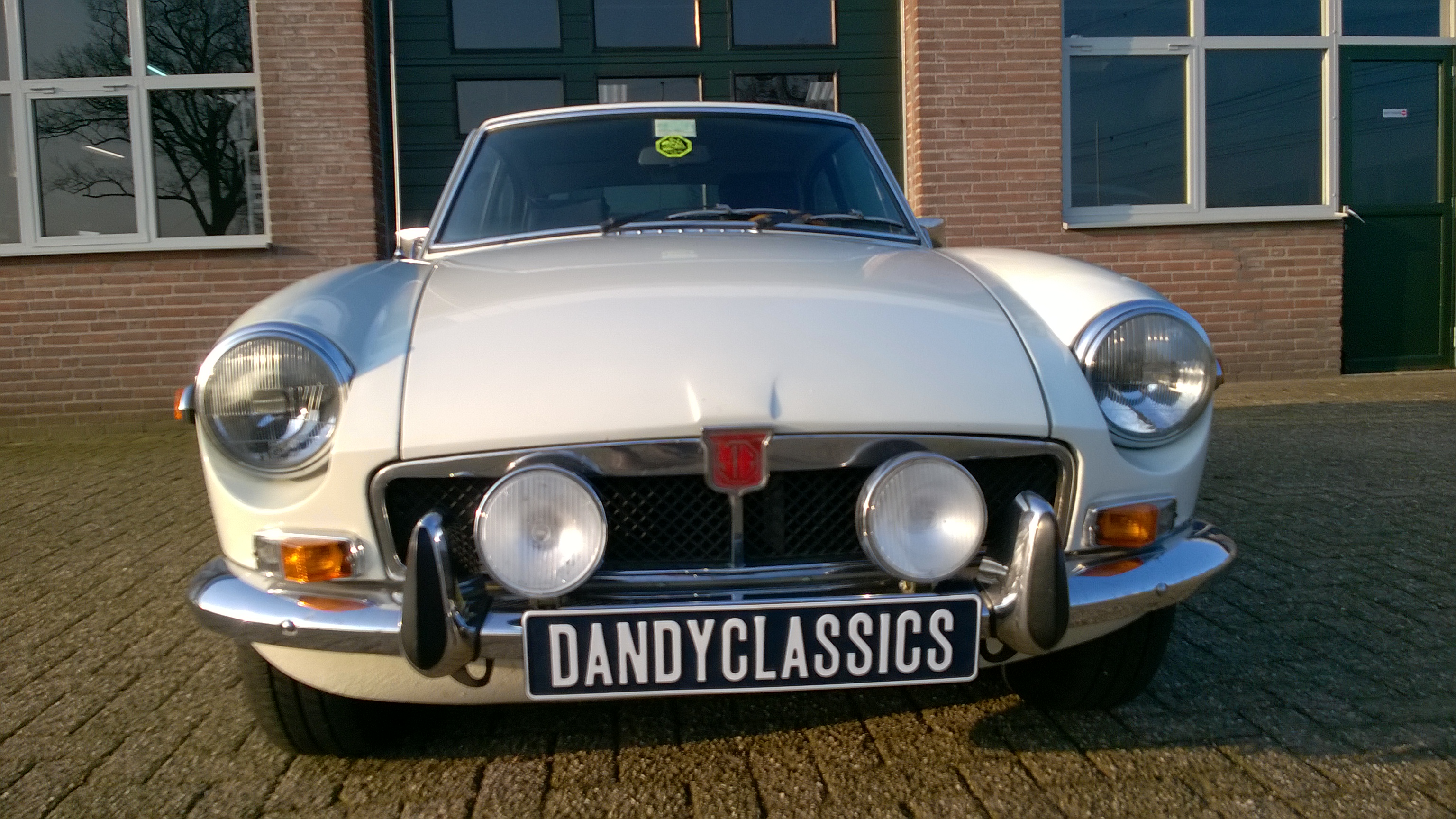 [:en]3. Be honest and transparent in the description
This serves two purposes. It informs the buyer and helps you answer apparently simple questions. So be honest about what you offer. Has the engine ever been replaced? Does the car whine in third gear? Does the interior come from another car? Is there any rust or past repair work? Mention this clearly in your advertisements. It prevents disappointments and wasting each other's time.
4. Apply a realistic asking price
Pricing your car correctly and market-compatibly is not easy. Owners often have an unrealistic view of their car's value, especially when a lot has been invested. However annoying this may sound, the value of a car is mostly unrelated to the amount of money that has been put in. Supply and demand determine value. To be more precise because, the value of you car is based on its attractiveness to potential buyers,  compared to other cars on the market. Some vintage cars are simply not very popular. It can sometimes take years before a certain make or type is 'in fashion' again. Certain models are fortunate to take part in a popularity trend, which benefits the price. For example, a Peugeot 205 GTi that was purchased 10 years for a meagre € 1000 can fetch more than an MGB that was bought at the same time for € 10,000. Even when that MG comes with a large stack of recent specialist invoices of € 8,000. This observation can hurt, but it helps if you adjust your expectations to the market situation. Make a good estimate of the value in advance and check where comparable cars are being offered for.
5. Answer questions from interested parties with patience
If all goes well, you have already given most of the information in your ad tekst. Also, a substantial number of clear photos have been posted. Despite your careful preparation, you will notice that questions may arise that can cause irritation. Often, for example, the (lowest, last, trade, ...) price is requested. Many people also ask questions for which the answer can already be derived from your text or photos. Especially with e-mail traffic, there is often miscommunication. Keep in mind that most people, despite their lack of communication skills, have sincere intentions. So stay patient and polite and try to answer every question seriously.
6. Be wary of scammers and bunglers
Should we specifically address payment via Western Union or an intermediary proposed by the buyer? Often these are foreign buyers, people who are too busy to inspect the car in person and are the least critical about the car you offer. If something sounds too good to be true, it usually is. As long as the car stays where it is until payment is received, there seems to be little to worry about. Everything that deviates from this is, to put it mildly, dubious.
Of course there are also people whose hobby it is to browse through car ads, contacting many sellers to try and make 'a deal'. These people are not interested in buying a nice classic, but get a kick out of the buying process itself (which will never be followed up, even if an agreement is reached below rock-bottom price). It is my prejudiced suspicion that many people with mental illnesses, detainees and minors respond to car ads. I do not like putting a label on people, but this is typically a case of personal frustration. Classic cars are a dream for many, but only accessible to the few. My advice: do not get carried away by irritations. Keep communicating politely and be clear about what is and is not possible.
7. Beware of cash transactions
In the car trade it is not unusual when (a part of) the purchase price is paid in cash. Buyers and sellers are naturally suspicious and can consider this a safe payment option. However, this does increase the risk for the seller, as there may be counterfeit banknotes in that big stack of cash. On the other hand, a buyer may be suspicious of transferring a considerable sum of money by bank. Do you doubt the authenticity of the money? Suggest to go to a deposit machine with the buyer, or use a device with which authenticity features can be distinguished. A check is unusual in the Netherlands, but is still widely used in Belgium and France. This also involves a risk, when the check is not covered.
8. Patience is rewarded
Has your car still not sold after two weeks? Don't panic. The sale of a classic car usually takes longer than in the case of a modern car, for which there is a much bigger pool of buyers. From personal experience, a number of months usually pass before a serious buyer shows up. A sale period of more than a year is not uncommon either. In the latter case, there is a fair chance that your asking price is unrealistic, or that your car is of an undesirable type, colour or specification.
9. Fast cash = less revenue
If you do not have that time, concessions will have to be made to the price. Traders can often buy on a short term, but offer considerably less than private buyers. When selling via online or offline auctions, there is a risk that there are too few serious bidders to raise the price to a realistic market value. And when setting a too high reserve price, the car can remain unsold, while fixed fees have been charged.
10. Sell by yourself or through a specialist?
Selling your classic by yourself brings a few disadvantages and risks. Don't like the prospect of answering many phone calls and e-mails, having strangers at the door and disappointments due to deals not falling through? Maybe it's a better idea to sell the car on consignment by a classic car specialist. In the Netherlands and Belgium there are several specialist dealers who sell cars on behalf of their customers. Also at Dandy Classics we like to help our customers with consignment sales. Curious about how this works? Read more on our purchase and consignment page.
Maybe you want to wait a little longer and put the car in storage for a while? Continue reading our article with storage tips for your classic car.
[:nl]3. Wees eerlijk en transparant in de beschrijving
Dit dient twee doelen. Het informeert de koper en helpt jou met het beantwoorden van ogenschijnlijk simpele vragen. Wees dus eerlijk over wat je aanbiedt. Is de motor ooit vervangen? Kraakt de auto in de derde versnelling? Komt het interieur uit een andere auto? Is er sprake van roest of laswerk? Vermeld dit duidelijk in je advertenties. Het voorkomt teleurstellingen en het verdoen van elkaars tijd.
4. Hanteer een realistische vraagprijs
Het correct en marktconform waarderen van je eigen auto valt niet mee. Vaak hebben eigenaren een onrealistisch beeld van de waarde, vooral wanneer er veel in de auto is geïnvesteerd. Hoe vervelend dit ook klinkt, de waarde van een auto staat los van de kosten die voor een auto zijn gemaakt. De waarde wordt bepaald door vraag en aanbod. Om precies te zijn door de aantrekkelijkheid van je aanbod ten opzichte van vergelijkbare auto's. Sommige oldtimers zijn simpelweg niet erg in trek. Het kan soms jarenlang duren voordat een bepaald merk of type weer 'in de mode' komt. Bepaalde modellen hebben het geluk mee te liften op een populariteitstrend, die de prijs ten goede komt. Zo kan een Peugeot 205 GTi die 10 jaar geleden werd aangeschaft voor € 1.000 meer opbrengen dan een MGB die in dezelfde tijd werd gekocht voor € 10.000. Zelfs wanneer die MG met een dikke stapel recente onderhoudsfacturen t.w.v. € 8.000 komt. Deze constatering kan pijn doen, maar het helpt als je verwachtingen afstemt op de marktsituatie. Verdiep je vooraf dus goed in de waarde en kijk waar vergelijkbare auto's voor worden aangeboden.
5. Beantwoord vragen van geïnteresseerden met geduld
Als het goed is heb je de meeste informatie al gegeven in je advertentietekst en zijn er duidelijke foto's geplaatst. Ondanks jouw zorgvuldige voorbereiding zul je merken dat er veel vragen kunnen komen die in eerste instantie irritatie kunnen opwekken. Vaak wordt er bijvoorbeeld naar de (uiterste-, bodem-, handels-, ...) prijs gevraagd. Ook stellen veel mensen vragen waarvan het antwoord al uit je tekst of foto's valt af te leiden. Vooral bij e-mailverkeer is er vaak sprake van miscommunicatie. Bedenk goed dat aan de andere kant ook gewoon een mens van vlees en bloed zit, met meestal een oprechte intentie. Blijf dus geduldig en beleefd en probeer iedere vraag serieus te beantwoorden.
6. Wees op je hoede voor oplichters en beunhazen
Moeten we nog specifiek ingaan op betaling via Western Union of een door de koper voorgestelde tussenpersoon? Vaak gaat het om buitenlandse kopers, mensen die te druk zijn om te komen kijken en weinig kritisch zijn over wat je aanbiedt. Als iets te mooi klinkt om waar te zijn is het dat meestal ook. Zolang de auto blijft waar hij is totdat de betaling is ontvangen lijkt er weinig aan de hand. Alles wat hiervan afwijkt is op zijn zachtst gezegd dubieus.
Natuurlijk zijn er ook de luiden die er een sport van maken om lukraak te bieden op allerlei auto-advertenties, of bij iedere auto te vragen naar de uiterste prijs. Laten we ze beunhazen noemen. Deze mensen zijn niet uit op het kopen van een mooie oldtimer, maar halen een kick uit het koopproces (dat dus nooit wordt afgerond, zelfs niet als er een akkoord onder de bodemprijs wordt bereikt). Mijn vermoeden is dat er bovengemiddeld veel GGZ patiënten, gedetineerden en minderjarigen reageren op auto-advertenties. Ik houd er niet van om mensen een label op te plakken, maar dit is typisch een geval van een lichte persoonlijke frustratie. Klassiekers zijn nu eenmaal een droom voor velen, maar slechts bereikbaar voor weinigen. Mijn tip: laat je niet meeslepen door irritaties. Blijf beleefd communiceren en wees duidelijk over wat wel en niet mogelijk is.
7. Pas op met contant geld
In de autohandel is het niet ongebruikelijk wanneer (een deel van) de koopprijs in contanten wordt betaald. Koper en verkoper zijn van nature op hun hoede en kunnen hiervoor kiezen volgens het principe van 'gelijk oversteken'. Dit verhoogt echter wel het risico voor de verkoper, aangezien er sprake kan zijn van valse biljetten. Aan de andere kant zal een koper wantrouwend kunnen zijn voor het per bank overmaken van een aanzienlijke som geld. Twijfel je over de echtheid van het geld? Stel voor om mee te gaan naar een stortingsautomaat, of gebruik een apparaat waarmee echtheidskenmerken te onderscheiden zijn. Een cheque is in Nederland ongebruikelijk, maar wordt in België en Frankrijk nog veelvuldig gebruikt. Ook dit brengt een risico met zich mee, want is de cheque wel gedekt?
8. Geduld wordt beloond
Is je auto na twee weken nog steeds niet verkocht? Geen paniek. De verkoop van een oldtimer duurt meestal langer dan bij een moderne auto, waar een veel groter koperspubliek voor is. Uit eigen ervaring gaat er meestal een aantal maanden voorbij voordat een koper zich aandient, maar ook langer dan een jaar is niet ongebruikelijk. In dat laatste geval is meestal de vraagprijs niet echt realistisch, of het gaat bijvoorbeeld om een ongewild type, kleur of uitvoering.
9. Snel weg = minder opbrengst
Heb je die tijd niet dan zullen er concessies gedaan moeten worden aan de prijs. Handelaren kunnen vaak op korte termijn inkopen, maar bieden dan aanzienlijk minder dan particuliere kopers. Bij de verkoop via online of offline veilingen bestaat er een risico dat er te weinig serieuze bieders zijn om de prijs op te drijven tot een realistische marktwaarde. En bij het instellen van een te hoge minimumprijs kan de auto onverkocht blijven, terwijl er toch vaste fees in rekening zijn gebracht.
10. Zelf verkopen of in consignatie aanbieden?
Het zelf verkopen van je oldtimer brengt de nodige nadelen en risico's met zich mee. Heb je geen zin in of tijd voor het beantwoorden van telefoontjes en e-mails, vreemde mensen aan de deur en teleurstellingen door het niet nakomen van afspraken of toezeggingen? Misschien is het een beter idee om de auto in consignatie te laten verkopen door een klassiekerspecialist. In Nederland en België zijn er verschillende gespecialiseerde oldtimerhandelaren die auto's in opdracht van hun klanten verkopen. Ook bij Dandy Classics helpen we graag met verkoop in consignatie. Benieuwd hoe dit in zijn werk gaat? Lees verder op onze inkoop en consignatie pagina.
Misschien wil je nog even wachten met verkopen en de auto eerst een tijdje in stalling zetten? Lees dan ons artikel met tips voor de stalling van je oldtimer.