This original Dutch delivery Mercedes-Benz CLK 200 cabriolet came to us as a trade-in vehicle. Specced as an Avantgarde edition, the W208 Mercedes convertible is a comfortable cruiser, suitable for taking the family on open-air road trips.
A well cared-for example, this CLK does not show its 23 years of experience. The quartzblau metallic paint looks very presentable, with a nice shine and few cosmetic blemishes. Panel gaps are correct and the only visible repair area is the left hand side windscreen pillar, which shows a slight colour difference with the adjacent panels.
The car runs and drives well and has a valid technical inspection (-07/2024). No service booklet is available, but the last 4 APK reports are included. In 2017 and 2018, the car was inspected at the Mercedes dealership Wensink. It recently received a basic oil and filter change, together with new front brake hoses.
The previous service was done in 2017, at 209.300 km. Currently, the car has 229.890 km on the odometre. Since new, all odometre entries are logically ascending, according to a recent RDW NAP (Nationale Auto Pas) report.
The interior is in presentable condition, with some traces of use. On the driver's side seat, 2 stitched seams have cracked open, which could be repaired. The seat cushions still feel firm.
The convertible top mechanism works well and the factory blue canvas hood is in good condition.
18 inch wheels with 235/40/ZR18 tyres, with sufficient profile, though they should be replaced at the next service interval. The car pulls slightly to the right, so wheel allignment should be adjusted at the next tyre change.
A well cared for youngtimer Mercedes, on its way to becoming a classic.
Price: € 2.900
This Mercedes CLK 200 cabriolet has a Dutch registration. We can deliver this car with an export certificate, for registration in other countries.
Door-to-door delivery possible (EU only), contact us for a shipping quote. Visits and inspections by appointment at Dandy Classics in the Netherlands.
---
Want to make an appointment to inspect this car? Or do you require a shipping quote? Contact us for more information.
Photos & videos: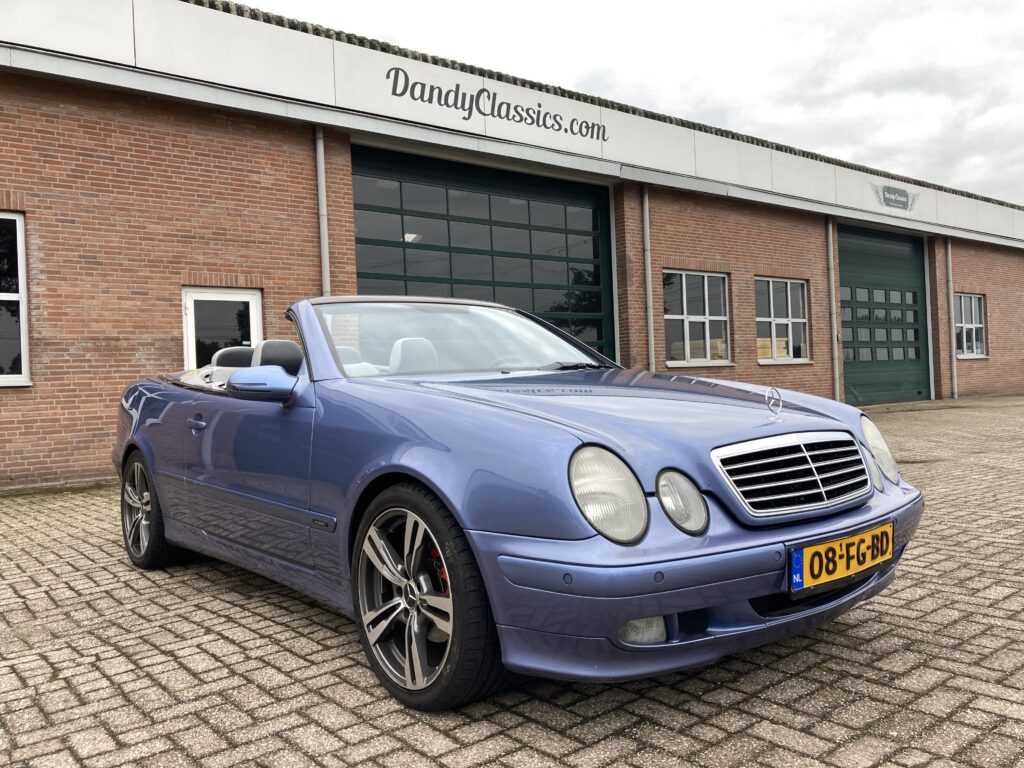 ---