The 1985 Corvette C4 is slowly growing into a desirable classic sports car. Thanks to the more powerful L98 tuned port injection engine, the 1985 model year was certainly an improvement over the somewhat tame L83 base engine.
This particular Corvette left the factory with a manual 4+3 Dough Nash transmission and the somewhat rare cloth seat upholstery. It was delivered new in Arizona. The second owner from California has owned the car since 1988 until we acquired it and shipped it to the Netherlands.
So far, the Corvette has only covered a modest 50.463 mls, which is supported by service invoices and a VIN report. Because of its low mileage, the car will need a bit of attention in order to make it perfect.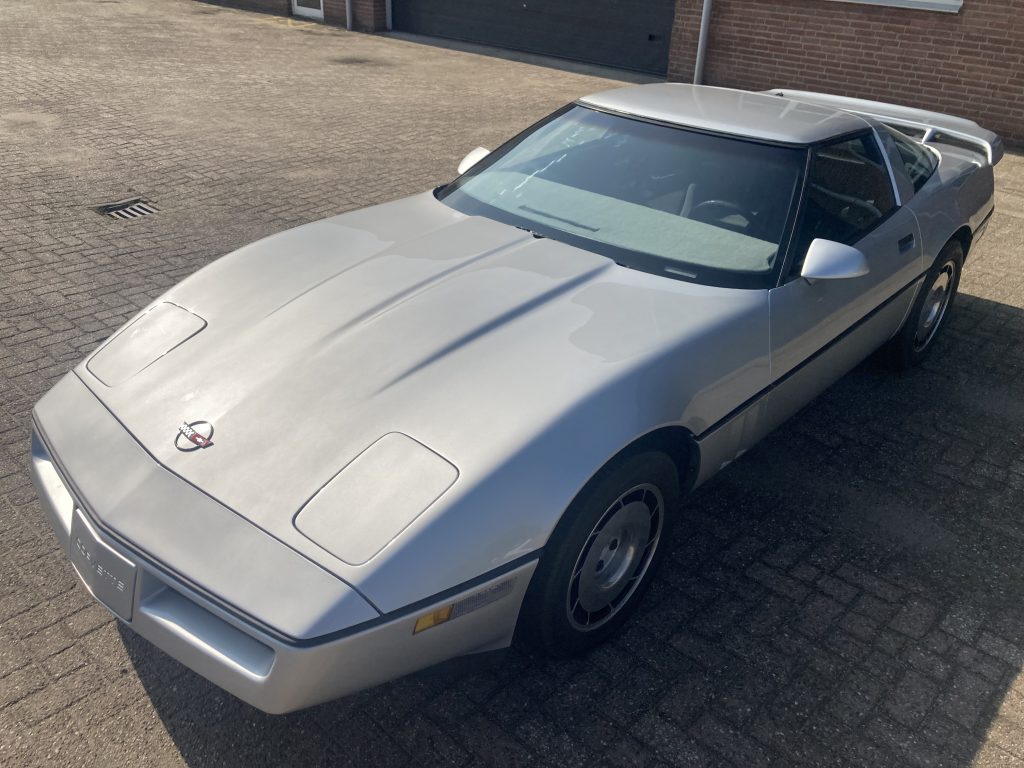 A well cared-for example, this C4 Corvette looks very presentable. Its silver grey paint is generally in very good condition, with a few signs of wear like small scratches, paint chips and some sun-faded clear coat on top of the right rear fender. The rear bumper was replaced with a later ZR1-style bumper and a tail spoiler in the early 1990's.
The chassis frame is in good condition, with no signs of corrosion or damage. The 16 inch chromed alloy wheels are shiny and undamaged. The current Goodyear tyres were fitted in 1993, and although they are visually in good shape should be replaced due to their age.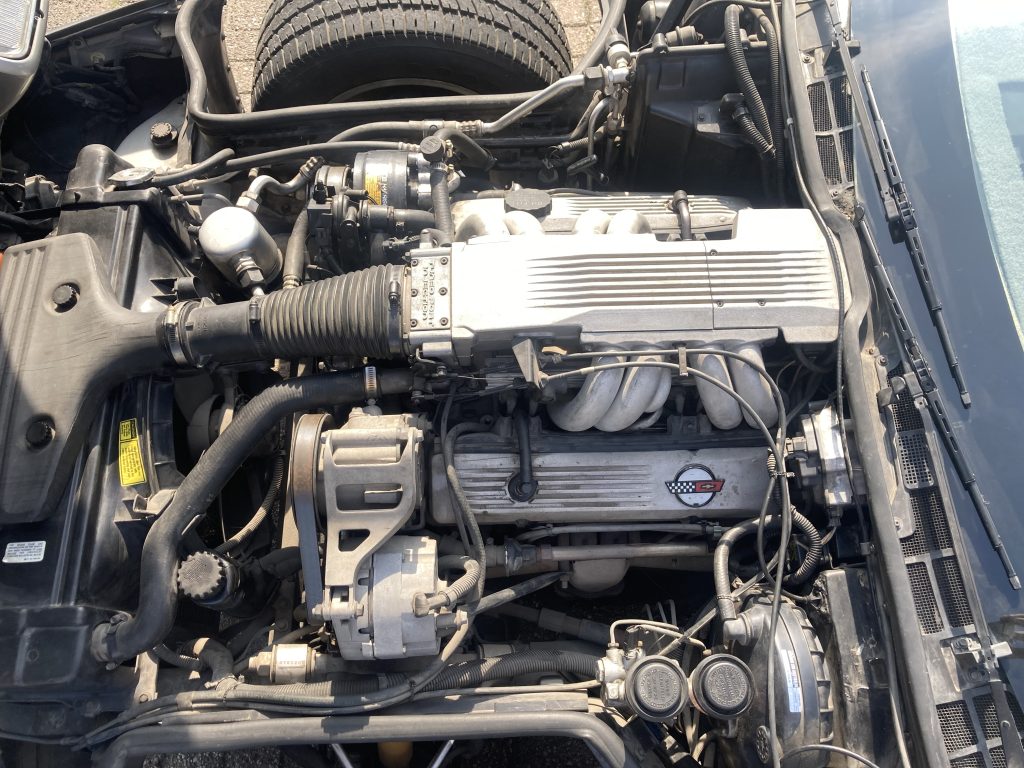 The engine bay looks clean and tidy. It recently received a basic oil change and a new fuel pump. Brake fluid and coolant look clean and hoses and belts appear to be in good condition. The air conditioning feels cold and is in working order.
Because of its low mileage, the car has hardly been used in the last decades. Invoices indicate a mileage of 42.000 in 1993. It will therefore require a service check up before being put back into frequent use. We would recommend to service the fuel injection system: fuel pressure is too low and the engine idles a bit roughly and doesn't perform as it should. Spark plugs are probably also about 30 years old. The left hand valve cover gasket is dried out and sweating a bit of oil.
The interior is in well cared-for original condition. The digital gauges and electric windows are all working nicely. The indicator switch will probably need to be cleaned up or replaced, as the left hand turn signal doesn't work. Unfortunately the passenger's seat cloth has a small cigarette burn spot. Having been protected from the sun by a cover, the dashboard top is in good condition.
Included are a stack of service invoices (including one for a rebuilt clutch disc in 1992), old registration documents and a clean VIN report, proving that the mileage is correct.
A nice example of a low-mileage early C4 with desirable manual transmission, this car is not to be missed by Corvette enthusiasts.
Price: € 14.900
The Corvette C4 has a US title (California) and EU import document (duties paid). Door-to-door delivery possible throughout Europe, contact us for a shipping quote. Visits and inspections by appointment at Dandy Classics in the Netherlands.
---
Want to make an appointment to inspect this car? Or do you require a shipping quote? Contact us for more information.
Photos & videos: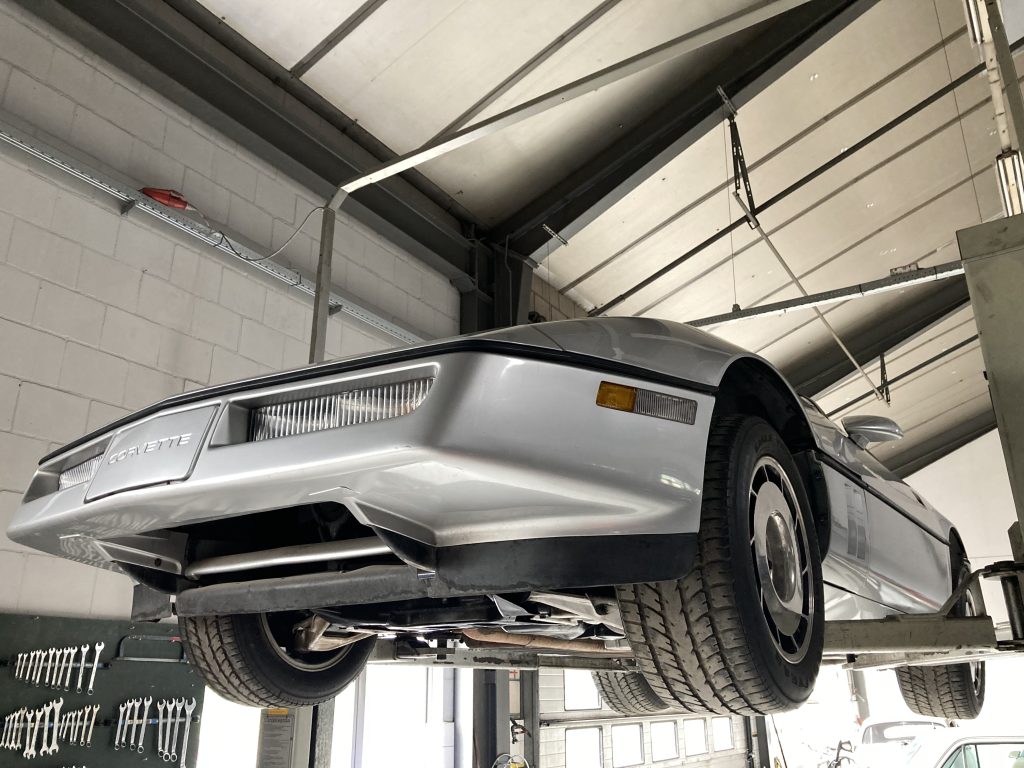 ---