This 1974 Corvette Sting Ray was acquired in the US state of Alabama. It is a running and driving project car that would require a strip down restoration at this point.
This car's original body colour was classic white, with a dark red interior. Currently painted in a combination of primer and weathered pearl white, the body definitely needs a thorough paint job.
The chassis shows surface rust, but is solid and straight. Rust damage is found on the lower front radiator support, which should be replaced. Also, the rear fibreglass battery tray is damaged, but could easily be repaired.
Inside the engine bay, the standard 350 small block V8 seems to have been at least partially rebuilt in the past. With performance cam shafts, chromed valve covers and a fresh Edelbrock carburettor, it feels quicker on the throttle than a standard C3 Corvette. The car runs and drives well, but would require a thorough mechanical check up at this point. The flywheel ring gear is damaged and needs to be replaced. Hence, the car is difficult to start. A new ring gear is included.
Recently replaced parts include four brake calipers, a new fuel tank and pump and the starter motor. Engine and transmission oil look clean. The exhaust silencers need to be replaced and the air conditioning compressor and spare wheel are missing.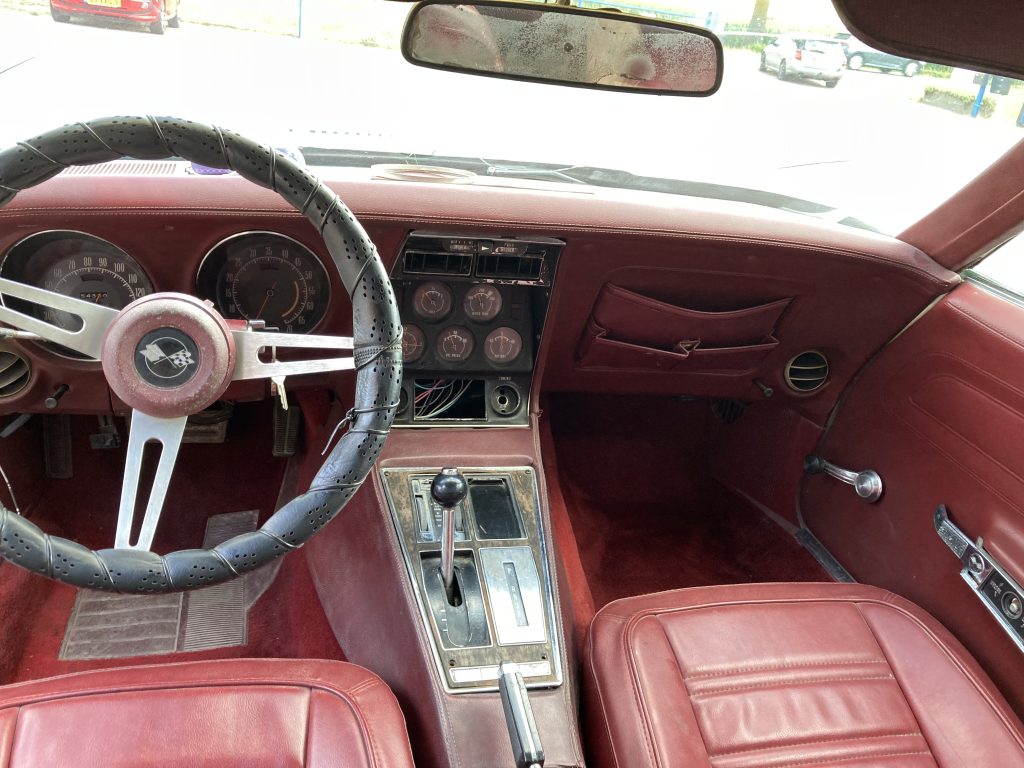 The interior should be renovated. The red carpets, vinyl seat covers and door panels are in good condition. The dashboard needs some electrical work, new switches etc. The pop up headlight mechanism does not work (although the lights do), as is the case with the horn. 54.330 mls on the odometre.
This 74 Corvette C3 project car is a nice starting point for practical enthusiasts.
Price: € 8.900
Our Corvette C3 has an Arkansas title reassignment form and EU import document (duties paid). It does not have a US title, but we will provide a commercial invoice. Door-to-door delivery possible throughout Europe, contact us for a shipping quote. Visits and inspections by appointment at Dandy Classics in the Netherlands.
---
Want to make an appointment to inspect this car? Or do you require a shipping quote? Contact us for more information.
Photos & videos:
---