A red Plus Four left the Morgan factory in Malvern Link on 17 March 1952, on its way to a journalist from Scheveningen in the Netherlands. The car caught the eye of a young petrol attendant, who closed a gentleman's agreement with the first owner. Should the Morgan ever be sold, he would be granted the first right to buy it. Years later, the gentlemen were able to finalise their agreement. The car changed hands for a substantial sum - at that time enough to buy a Mercedes 300SL Gullwing.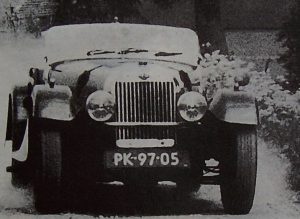 In the 70's and 80's, the car was not spared. Thanks to a tuned Triumph TR3 engine, a leather belt was required to keep the bonnet in place through fast cornering. The sports car was used as a multi-purpose vehicle: during the day as a delivery van to get hay for the horses and at night as a doghouse. Eventually, the years started to take their toll and the car was sold as a restoration project.
Morgan Plus Four restoration
The first attempt to restore the car was not particularly successful. The car was bought back in boxes by the second owner, and sold the same week to the current caretaker. He restored the car in detail and re-installed the completely rebuilt original Vanguard engine. The Moggie grawls happily again and is regularly taken for a spin around the countryside.
This car still has its Original Dutch blue plates, with linnen title, and is the only Morgan Plus Four 'flat rad' that has ever been sold new in the Netherlands.