Offered for sale is a highly original, unmolested MGB roadster. Presented in its factory original Carmine red paint job, we believe it has only covered 7.500 mls since new. Same owner since 1991.
The body of this car has generally been well-preserved, although it does need some cosmetic attention. The lower edges of the front and rear fenders start to show their first rust bubbles, especially on the right hand side rear fender. Both sills are solid and so are other typical weak areas, like the floor boards and boot floor. The factory paint still has a nice shine, but the car has scratches and small dents on various panels, especially below the chrome trim line. No signs of previous body work and a consistent paint thickness all around. Typical damage to the boot lid, which should be repaired or replaced.
The interior will need attention. On the driver's seat, the vinyl is damaged and the carpet has not survived the damp seasons of Washington state. The covers below the dashboard are still in place - typically these are missing on MGB's. Convertible top and frame are missing, but the car has an aftermarket hardtop, a tonneau cover and a soft top cover.  The trunk area is very presentable, although the paint could use a few touch ups. Jack and wheel wrench still in the factory stowage bag. The factory inspection tag is still present on the wiring loom in the trunk.
Under the bonnet, everything looks clean and original. Through the spark plug holes, you can still see the hone marks on the cylinder walls. Compression and oil pressure are like new and the engine runs very nicely. However, the automatic choke needs to be adjusted or repaired. The MG is in good driving condition, although we would recommend the new owner to check the vital service points before putting on more miles. All fluids look clean and there are no mechanical problems. Regular 4 speed gearbox. Tyres in good condition, except for the spare wheel. Some spare parts included, including the original 1977 Lucas coil, that was replaced in 2003.
This MGB comes with a US title (Washington) and EU import documents. All import duties have been paid for. We can deliver this car throughout Europe at competitive rates. Contact us for a shipping quote.
Price: € 4.950
Call us for more information (+31 612 235640), or fill in the contact form below:
 1977 MG MGB rubber bumper for sale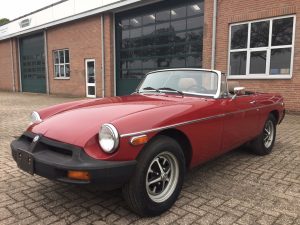 Go back to our collection page
, to see our current stock of classic cars for sale.