The Alfa Romeo Spider is arguably one of the most iconic classic italian sports cars that are still affordable. Having been in production for almost 3 decades, there are many different versions to choose from. This particular version could be the best trade-off between classic styling and performance. Being an early series 2 car, it is one of the last cars from the pre-impact bumpers, pre-smog regulation era. Most of all, the 2000 Veloce engine is the most powerful of all Alfa Spiders.
Our Alfa Romeo Spider left the factory in Grigio Metallizzato (paint code 737) and a black interior. After a number of years it was repainted red, and finally its current blue with golden banners. The 3rd and final paint job was clearly a cheap cover up for rust issues that had begun to occur. The body shows signs of bondo on the lower panels (sills, wheel arches and rear lower quarter panels below the bumpers). Floors and chassis rails appear to be in fairly good condition, making this a car worth the effort of a complete bare metal restoration.
The interior is mostly still in useable condition, but will need at least some minor repair work on the seats, door panels and convertible top. An ugly aftermarket roll bar is still bolted on, waiting to be permanently removed.
A cylinder head rebuild was given by the last owner and the engine received new valves, valve springs and professional machining work. The head was fitted and valves were adjusted, after which the project stalled and the car was sold to us. We have made the car running again (starter sent out to rebuild shop), but have to conclude that the compression is too low. The engine will need a complete rebuild. The rest of the mechanical components will of course need to be given appropriate attention. The SPICA injection system was replaced for a double Weber carburettor setup. Current mileage 02983, which we assume to be 102983. The last Virginia State inspection expired in 1996.
Our Alfa Spider has a US title (Tennessee) and an EU customs document. All import duties have already been paid. We can deliver this car throughout Europe at competitive rates. Contact us for a shipping quote.
SOLD
 1974 Alfa Romeo Spider 2000 for sale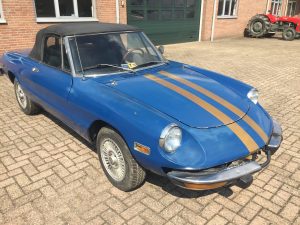 Go back to our collection page
, to see our current stock of classic cars for sale.