Deprecated: class-oembed.php is
deprecated
since version 5.3.0! Use wp-includes/class-wp-oembed.php instead. in /customers/e/6/b/dandyclassics.com/httpd.www/wp-includes/functions.php on line 4903
The front is like a car, the back is like a truck. It is still debated what body style to categorise the El Camino with. Some simply call it a mule. Love it or hate it, the Chevy El Camino is a remarkable piece of americana that has become an icon in popular culture.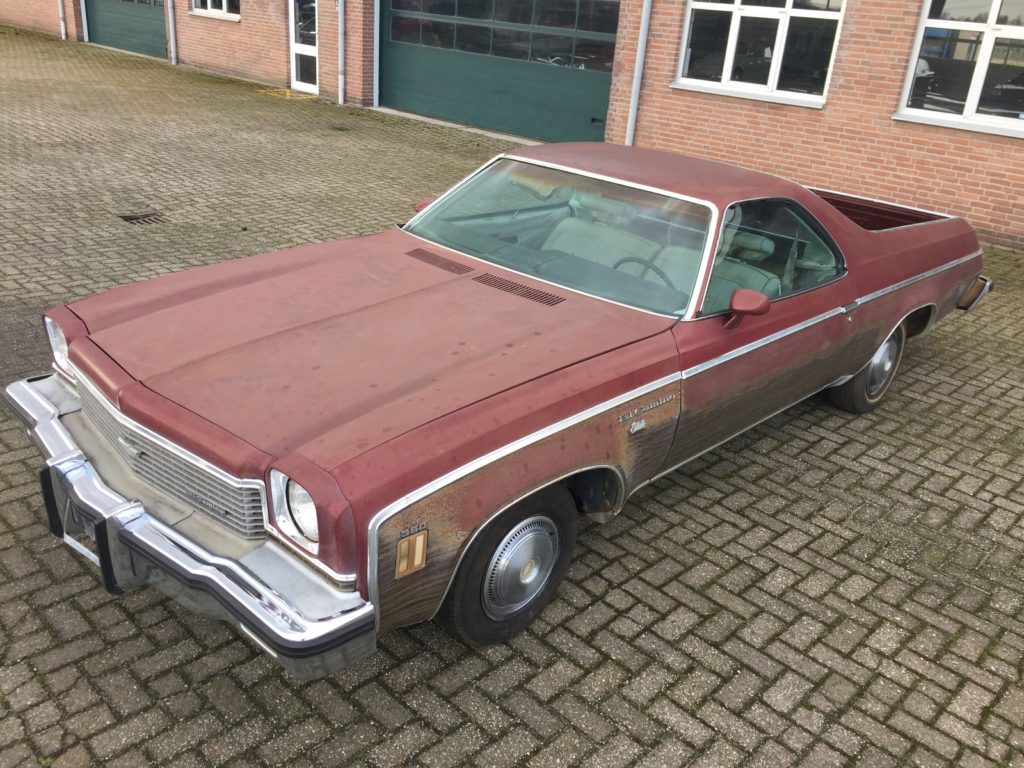 Our Elky is a 350 Estate, built in November 1972 as a 1973 model. We acquired it in California, still in factory original paint. This is a project car for restoration, an unmolested canvas of a 73 El Camino to bring back to original shine, preserve as a patina driver or customise up to your own taste.
Body and chassis are solid. Unfortunately, the combination of pilarless doors and dried out rubbers led to moisture entering the cabin, causing the floor boards to rust. Hence, the interior floor panels need to be replaced. Also, some repair work is needed on top of the internal winscreen post, and around the inside of the rear window post. The truck bed, doors and body panels are all solid, showing only minor surface rust.
The interior needs to be completely refurbished. Current mileage of 19.198 mls. Windscreen has a crack and should be replaced. 3 keys included, spare wheel missing. The crome and aluminium trim is mostly in good condition, except for some small damage around the right rear wheel arch.
The engine runs on starter fluid, with the starter solenoid hot-wired. When connecting the mechanical fuel pump to an external fuel bottle, the carburettor overflows. We might find time to clean out the carburettor in the coming weeks, although it is obvious that the car needs more extensive mechanical attention. Engine oil and filter have been replaced prior to starting the car. It will be sold without a battery.
This El Camino is a good starting point to restore a desirable cult classic.
SOLD
Our Chevrolet El Camino has a US title (California) and EU customs document. All import duties have been paid. Door-to-door delivery possible (EU only), contact us for a shipping quote. Visits and inspections by appointment at Dandy Classics in the Netherlands.
---
Want to make an appointment to inspect this car? Or do you require a shipping quote? Contact us for more information.
Photos & videos:
---