This Volkswagen Karmann Ghia type 14 was first registered in the US state of Pennsylvania in 1967. With a red body and black interior, the car combined elegant italian styling with sturdy and reliable VW components. Actively used until 1983, the car was eventually put into storage. The previous owner made an attempt at starting a restoration, but soon realised that the project was beyond his skills and expectations. Luckily, the Ghia remained complete, ready to start a thorough body-off restoration.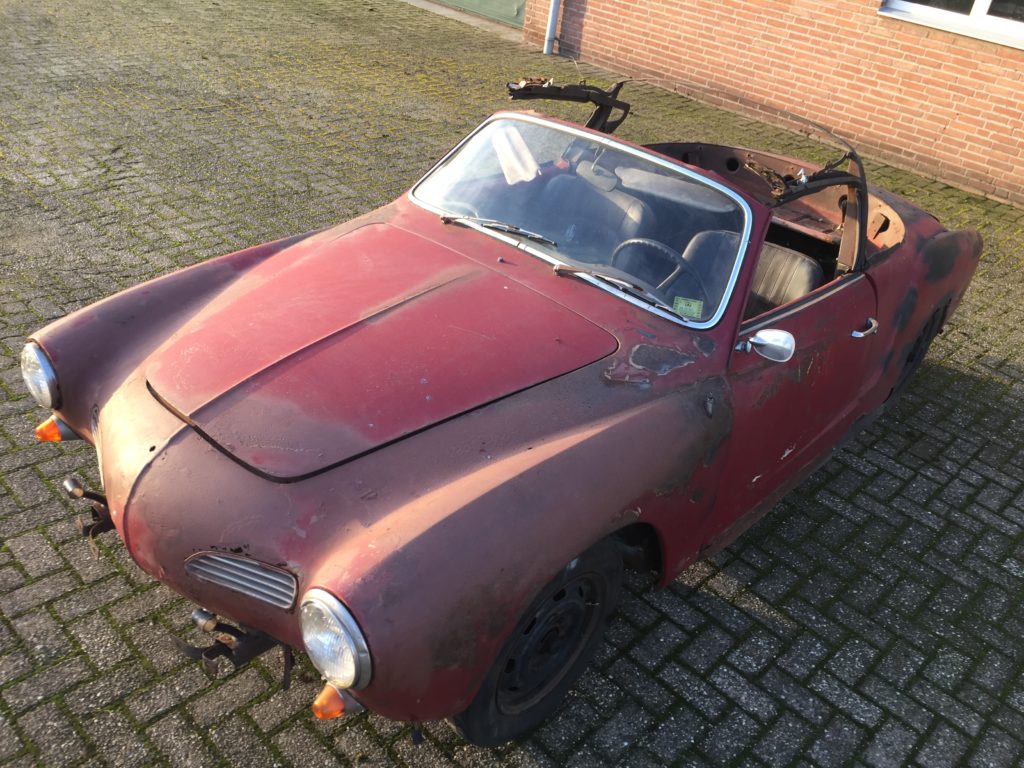 The chassis section already received new floor boards and sills, although it appears that the body was never taken off. Rework will be required to get the chassis base section to a high standard of quality.
The body has rust damage on all lower sections: doors, sills, rear fender edges and the lower nose section. Other perforation is visible at the lower rear corner of the left hand rear fender, the lower edge of the rear engine lid and around the front ventilation grilles. Although not a job for inexperienced restorers, a skilled welder can bring this Karmann Ghia convertible back to former glory.
Our Karmann Ghia's interior is in need of total refurbishment. Everything appears to be mostly complete however. Period correct AM/FM radio. Keys missing.
Technically, the car will require a complete rebuild. The engine turns by hand and the gearbox shifts through gears easilly. 17.316 mls on the odometre. Included are some old registration cards from the early 1980's and many extra parts. Please check the pictures carefully for what is included with the car. If you don't see it there, consider it missing.
Not an easy restoration project, but a very rewarding and attractively priced Ghia for those who have the skills to turn it into a perfect classic.
SOLD
The VW type 14 has a US title (Pennsylvania) and EU customs document. All import duties have been paid. Door-to-door delivery possible (EU only), contact us for a shipping quote. Visits and inspections by appointment at Dandy Classics in the Netherlands.
---
Want to make an appointment to inspect this car? Or do you require a shipping quote? Contact us for more information.
Photos & videos:
---