This US market Triumph TR4A left the factory in signal red, with a black interior. The previous owner had the intention of restoring the car, but did not come further than disassembly.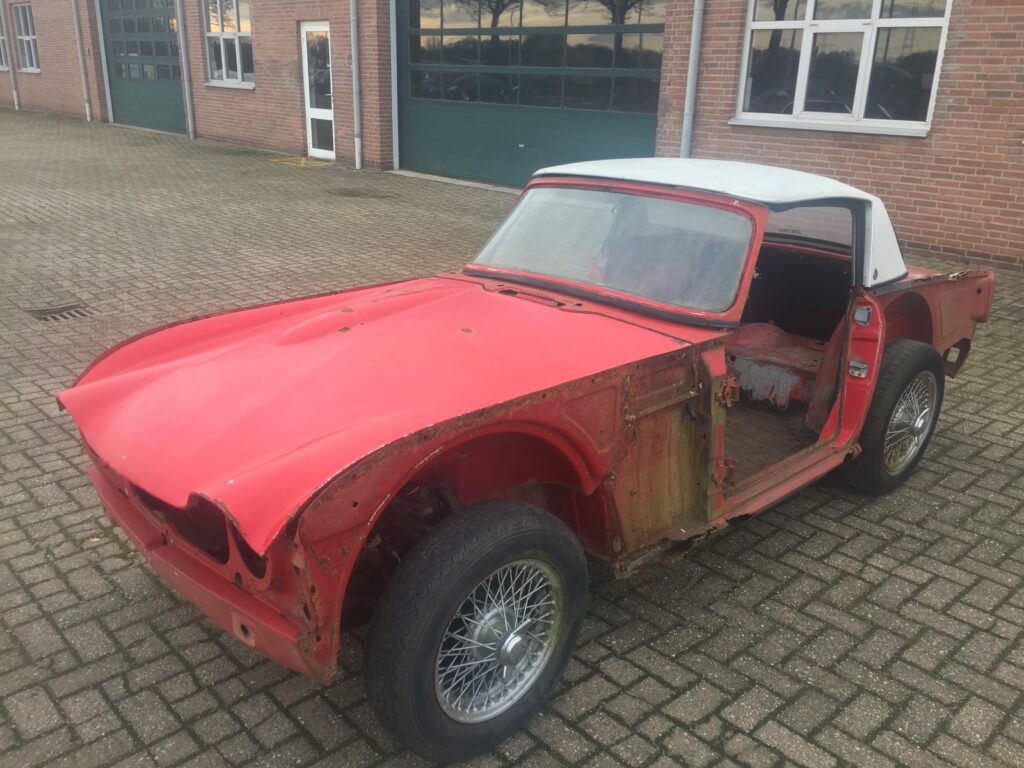 The chassis has already been given attention, with new suspension parts and some repair work to the frame. It will need to be stripped down again, with expected metalwork on the rear trailing arm outriggers and previously repaired rear beam sections.
The body tub needs to be repaired in the most common areas: floors, sills, rear wheel wells and at the edges of the rear wing sections. Body panels are in restorable condition, requiring repair sections and some patch work. The right rear fender should be replaced.
Engine and gearbox are out of the car and the engine is disassembled for rebuild, with one piston stuck to its sleeve. Most of the car's parts appear to be there. Missing parts are the seat frames and handbrake assembly. All parts that are included are pictured. If you don't see it on the pictures, consider it missing. 43.148 mls on the odometer. Knock off wire wheels.
With proper attention to all individual pieces, this puzzle will lead to a shiny new Triumph TR4A IRS.
SOLD
This Triumph TR4A has a US title (Ohio) and EU customs document (duties paid). Door-to-door delivery possible throughout Europe, contact us for a shipping quote. Visits and inspections by appointment at Dandy Classics in the Netherlands.
---
Want to make an appointment to inspect this car? Or do you require a shipping quote? Contact us for more information.
Photos & videos:
---