The Datsun Fairlady roadster may be considered as the mother of Japanese sports cars. In the 1960's it paved the road for the upcoming Japanese auto industry, offering a more than competitive package compared to Triumphs, MG's and even Alfa's. This particular 1600 roadster was sold new in California and still retains its black license plates. 1980 was the last year of annual technical inspection, after which the car led a dormant life. Still in well-preserved condition, this Datsun roadster is an excellent candidate for a thorough restoration.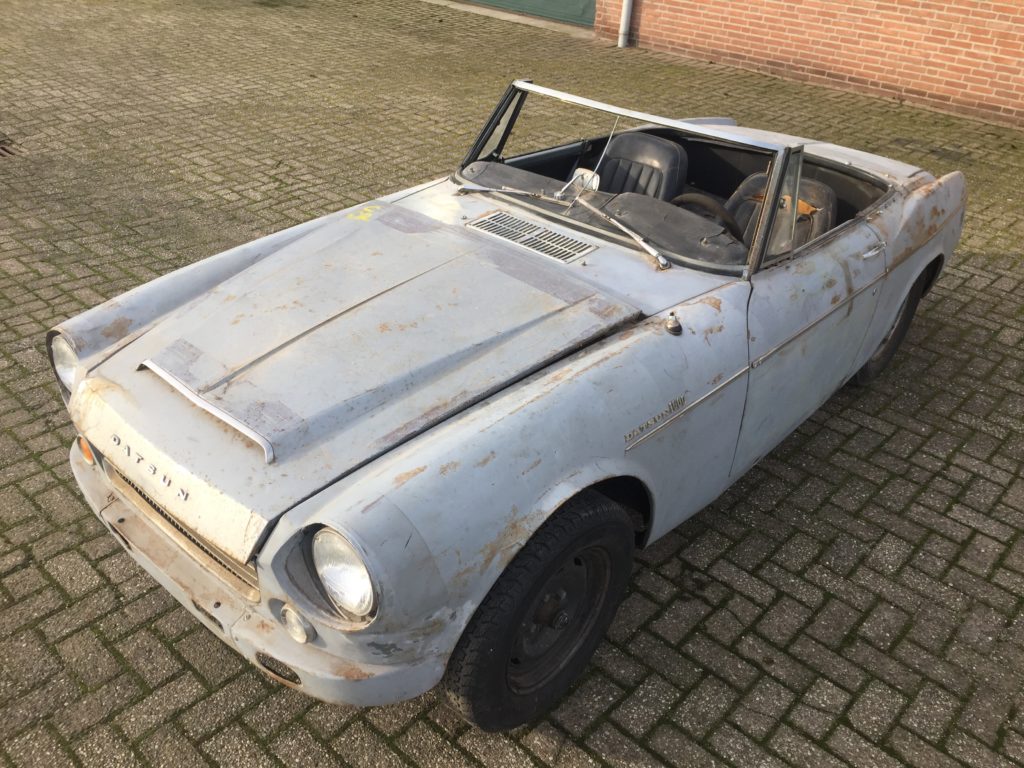 Body and chassis are in remarkably solid, well-preserved condition. The only rust we could find is superficial, so restoring this car would be a pretty straightforward job.
Originally finished in 511 gray, much of the original paint is still visible. The outside appears to have been painted over with grey primer, probably to start an amateur restoration. Most of the body panels appear very straight, with excellent fit and without signs of excessive bondo or thick layers of paint. The bonnet and boot lid will require some light panel repair.
The interior needs to be completely refurbished. A new black carpet set is included and most of the trim appears to be present. Non-original steering wheel. Missing items include the windscreen, front and rear bumpers and the spare wheel. Some smaller items might be missing as well. We managed to acquire all of the original dashboard instruments and switches. These parts are included with the sale.
Under the bonnet, the 1600 engine turns by hand and the gearbox shifts through gears easilly. The engine bay and engine have been painted at some point in the past, possibly indicating a partial rebuild. Consider all drivetrain components to need at least a light overhaul.
With values of classic Japanese sports cars steadily rising, this little Datsun will prove to be a satisfactory project to its new hands-on owner.
SOLD
Our Datsun 1600 roadster has a US title (California) and EU customs document. All import duties have been paid. Door-to-door delivery possible (EU only), contact us for a shipping quote. Visits and inspections by appointment at Dandy Classics in the Netherlands.
---
Want to make an appointment to inspect this car? Or do you require a shipping quote? Contact us for more information.
Photos & videos:
---